We are excited to welcome Little Barb's Bakery as the newest vendor at Durham Food Hall! Little Barb's Bakery is a place where you can come to enjoy beautiful desserts of all kinds and feel inspired. Little Barb's will be located next to Liturgy Beverage.
"In a beautiful cosmic turn of events that only a place like Durham could produce, the sweetest opportunity presented itself for Little Barb's Bakery to join the talented group of vendors in the Durham Food Hall," said Barbara Nigro. "I'm humbled and excited to take this next step in fully realizing my dream of owning my own neighborhood bakery."
Cookies & Cakes & Brownies—Oh My!
Little Barb's is a sweet lover's dream. Her menu will include cookies, cake slices, brownies, cinnamon rolls, poptarts, cheesecake bites, creme brûlée, and more. Her cookie category includes everything from your traditional chocolate chip to cream cheese stuffed red velvet cookies. Are you drooling yet?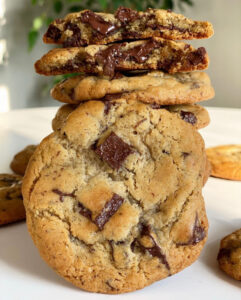 Barb will take the unique concepts and ideas from her customers and turn those visions into tasty realities. Gluten-free customers can rejoice! Little Barb's will offer a handful of gluten-free treats, including brownie crinkle cookies and Vegan-friendly granola bars. She's working to expand her gluten-free and vegan options to make Little Barb's Bakery inclusive to all dessert lovers.
Meet Barb
Barb's passion for baking started at a young age when she would spend countless moments watching her grandmother perfect her iconic zucchini bread recipe. As the youngest of nine children, it was often hard to get a word in within her full household (as you can imagine!) so she always found herself speaking through the desserts she would make. Barb felt that one batch of perfectly gooey cookies could tell a story of a thousand words. Her love of baking, and the ability it gave her to express herself, drove Barb to develop her skills as a self-trained baker. Bake it till you make it, as they say!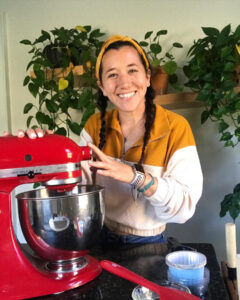 Barbara Nigro isn't your traditional trained baker. She has a degree in kinesiology but decided to quit her job in healthcare to chase after her ultimate dream of owning her own neighborhood bakery. She started baking specialty cakes and desserts for her friends and family to make their various occasions extra special (and extra sweet!). To her surprise, they were the slice of the party! With the growing support of her customers and community, Little Barb's Bakery was born and bred.
Behind the Name
When she was in college, Barb helped her father open their family pizzeria in Cookeville, TN. As they were racking their brains to come up with the perfect name, Barb recommend they name it, "Big Tony's Pizzeria" and the rest was history.
The "Little" was a tribute to Big Tony's Pizzeria, and "Barb's" was a way to honor her grandmother, Barbara, whom she is named after. Barb's grandmother always encouraged her love for baking and taught her how to make the best zucchini bread.
Durham's Friendly Neighborhood Bakery
Her vision for Little Barb's Bakery is to create a warm, inclusive, creatively-focused neighborhood bakery for all of her fellow cake and dessert lovers to enjoy. Little Barb's will be a place where you can come to enjoy beautiful desserts of all kinds and feel inspired. Come visit Downtown Durham's friendly neighborhood bakery and taste these sweet treats for yourself!