Eat
Choose from ten miniature eateries by Triangle chefs, all with unique menus made from locally sourced, seasonal ingredients.
Vendor Map
Locals Seafood Market & Oyster Bar
Seasonal North Carolina seafood, fresh daily from the coast. Everything from oyster plates and simple ceviche to market fish you can take home and prepare yourself.
Lula & Sadie's
A seasonal, Southern eatery highlighting the cultural roots and bounty of produce our region produces, from scalloped potatoes and hot cakes, to tomato salad, chicken potpie and eggnog-pecan French toast.
Liturgy Beverage
Creative tea and coffee beverages inspired by both the growers and producers who provide the ingredients, and the people who enjoy drinking them.
Old North Meats and Provisions
House-smoked meats, sausages and charcuterie for deli sandwiches or sliced. They will also have a selection of local cheeses – to enjoy at the Hall or to make your own charcuterie and cheese board at home.
Napoli Pizza and Gelato
Neapolitan style wood fired pizza with naturally risen dough, and sweet gelatos and sorbets made from scratch.
Afters
Cookie cakes and dessert flights, giving you delicious small tastes of multiple desserts – you can try them all!
Ex-Voto Cocina Nixtamal
Heirloom corn and nixtamalization to produce items like tacos, tamales, and tostadas that celebrate both Mexican and regional agriculture.
Everything Bagels
Gourmet bagels made in house to create avant-garde bagel sandwiches and bagel-burgers.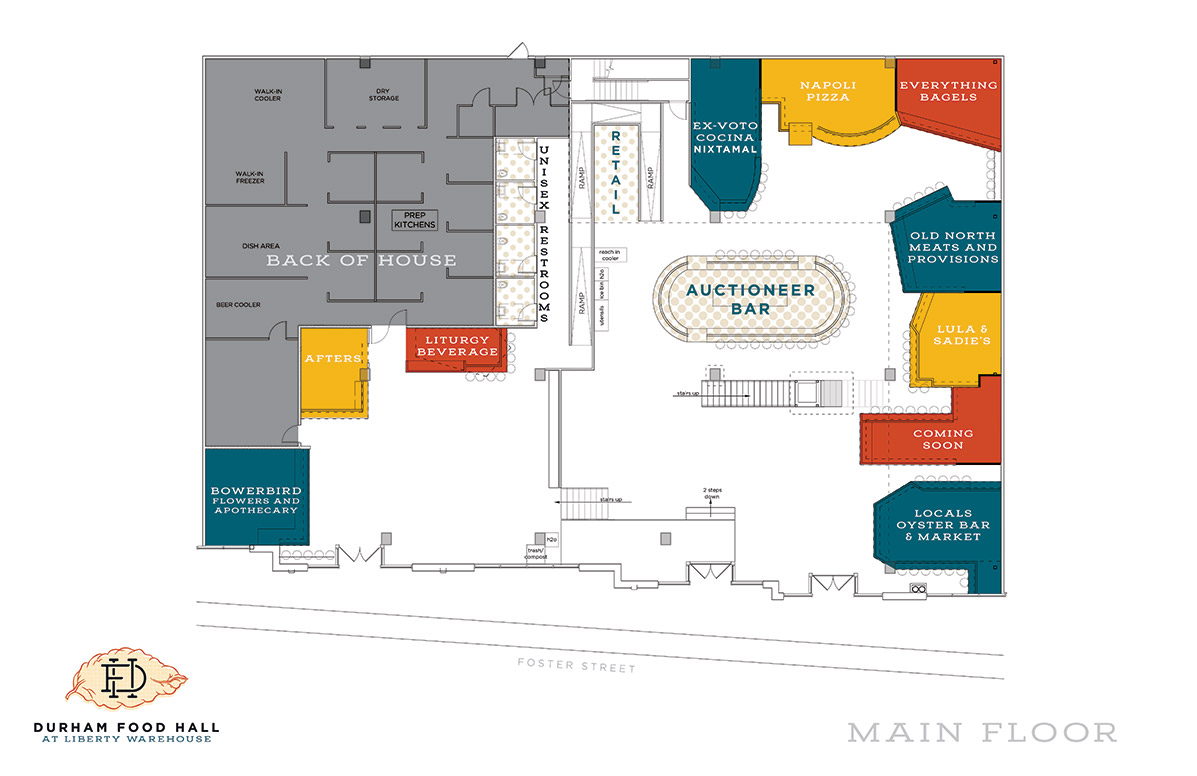 Vendor Application
Please apply if you are interested in joining our Waiting List.
Visit Us
Hall hours and opening date coming soon!
SUN – THU
7:00 am – 10:00 pm
FRI – SAT
7:00 am – midnight
Location
530 Foster St, Suite 1
Durham, NC 27701
Contact Us
Don't be shy. Let us know if you have any questions!
We're Hiring!
Join our inclusive, fun, hard-working team!