Opening Early 2020
Coming to Liberty Warehouse in the Central Park district of downtown Durham.
See the Vendors
What is Durham Food Hall?
Durham Food Hall is a casual, modern space designed for community – a chef-driven culinary and cocktail experience where everyone is welcome.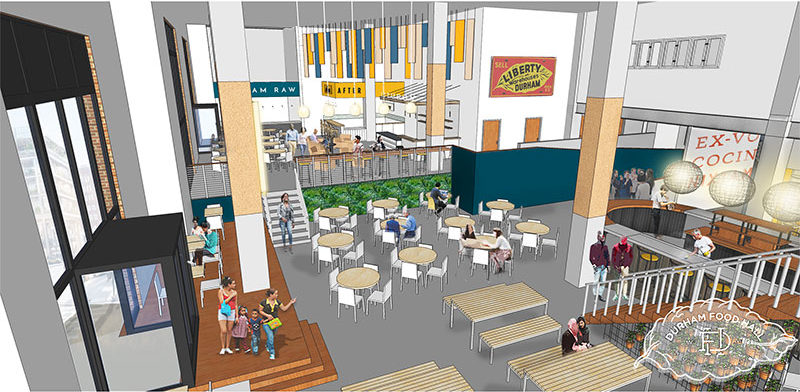 Choose from ten mini eateries by Triangle chefs serving NC seafood, wood-fired pizza, homemade charcuterie, Nixtamatal, southern food, dessert flights, coffee and tea, juices and salads, and more — all made with locally sourced ingredients.
Enjoy hand-crafted cocktails, beer from local breweries, and wine at The Auctioneer Bar situated in the middle of the main floor; or meet on the mezzanine for a drink in Riggs Lounge's more intimate setting.
Host your own private party, meeting, or gathering in one of the mezzanine's 2000+ sq ft of event spaces.
Meet the Vendors Coming to the Durham Food Hall
"While the quality of food and techniques of these vendors are very important, their character was equally important and vital…"
WRAL Out & About
You'll see some familiar faces when the Durham Food Hall opens
"Many of the vendors are brick-and-mortar spots for local food trucks, a crosstown location for an already established brand or the first venture for a cook with a dream."
News & Observer
Everything You Need to Know About the Durham Food Hall
"The emphasis of the hall is on sustainability and local food sourcing, and the great lineup of local vendors follows suit."
Offline Durham, NC
Meet the Durham Food Hall Vendors
"Mueller is creating a hall that will host compost and recycling programs, and vendors will use local, responsibly-farmed produce and humanely sourced animal products."
Bites of Bull City
Visit Us
Hall hours and opening date coming soon!
SUN – THU
7:00 am – 10:00 pm
FRI – SAT
7:00 am – midnight
Location
530 Foster St, Suite 1
Durham, NC 27701