What is Durham Food Hall?
Durham Food Hall is a casual, modern space designed for community – a chef-driven culinary and cocktail experience where everyone is welcome.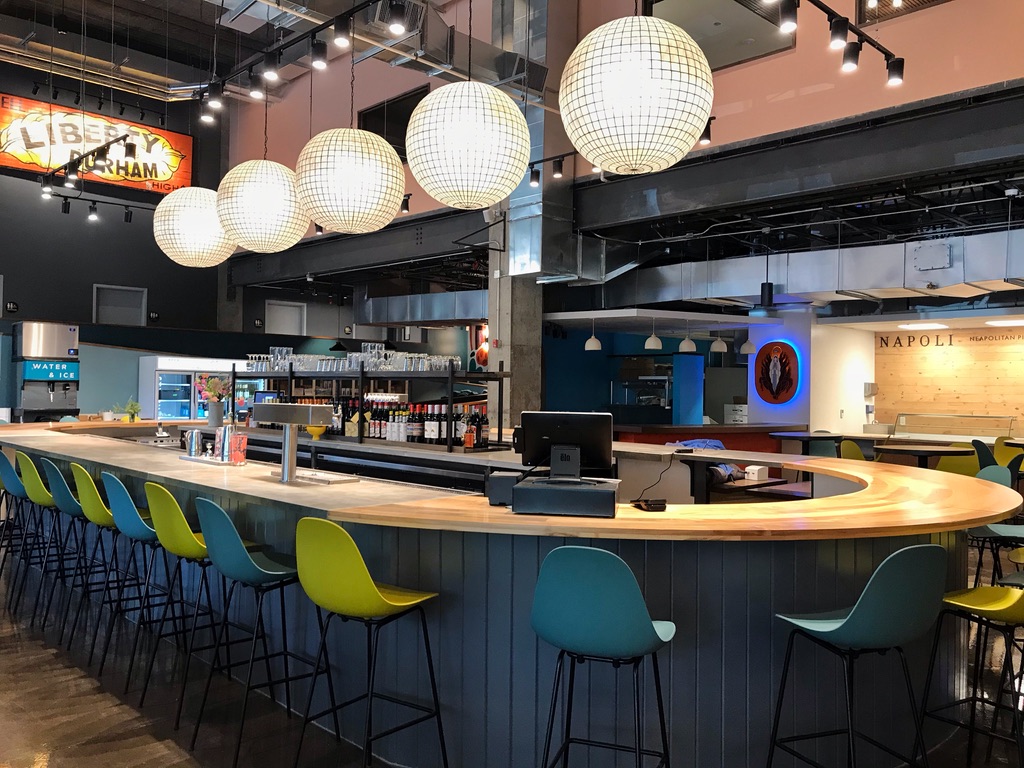 Choose from ten mini eateries by Triangle chefs serving NC seafood, wood-fired pizza, homemade charcuterie, Nixtamatal, southern food, dessert flights, coffee and tea, juices and salads, and more — all made with locally sourced ingredients.
Enjoy hand-crafted cocktails, beer from local breweries, and wine at The Auctioneer Bar situated in the middle of the main floor; or meet on the mezzanine for a drink in Riggs Lounge's more intimate setting.
Host your own private party, meeting, or gathering in one of the mezzanine's 2000+ sq ft of event spaces.
Purchase A Durham Food Hall Gift Card!
Use a Durham Food Hall Gift Card at any vendor in the hall! The most versatile way to gift your loved ones the full DFH experience. Grab a digital card now or stop by the Auctioneer Bar to pick up a physical one. 
Fall for Some Seasonal Cocktails
The weather is getting cooler, and as leaves start to change color, we're celebrating by enjoying some fun fall cocktails. It's time to cozy up to the Auctioneer Bar at the Durham Food Hall and enjoy some of these tasty treats with us.
INTRODUCING LITTLE BARB'S BAKERY
We are excited to welcome Little Barb's Bakery as the newest vendor at Durham Food Hall! Her menu will include cookies, cake slices, brownies, cinnamon rolls, poptarts, cheesecake bites, and more.
Everything You Need to Know About the Durham Food Hall
"The emphasis of the hall is on sustainability and local food sourcing, and the great lineup of local vendors follows suit."
Offline Durham, NC
Meet the Durham Food Hall Vendors
"Mueller is creating a hall that will host compost and recycling programs, and vendors will use local, responsibly-farmed produce and humanely sourced animal products."
Bites of Bull City