The weather is getting cooler, and as leaves start to change, we're celebrating by enjoying some fun fall cocktails. It's time to cozy up to the Auctioneer Bar at the Durham Food Hall and enjoy some of these tasty treats with us.
Don't Call it a PSL
This delicious cocktail combines two of our favorite things; pumpkin & coffee.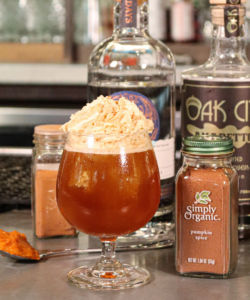 Vodka – To kick off this festive cocktail, we start with End of Days Vodka. This ultra premium vodka, made in Wilmington, is distilled seven times to ensure a crisp, clean, and smooth taste.
Amaretto – We pair the vodka with Oak City Amaretto, made locally here in Raleigh. We love supporting this brand, which includes all natural & American made ingredients. This nutty liqueur really adds depth and earthiness to the drink.
Liturgy Cold Brew – We couldn't have gone with any other coffee to use in this cocktail than the food hall's very own, Liturgy Beverage Company! If you like what you taste in this cocktail, be sure to check out their specialty made coffees and teas.
We shake all these carefully crafted ingredients until frosty and then top with our housemade pumpkin cream; made with whipping cream, powdered sugar, pumpkin puree and pumpkin spice. We sprinkle a dash of cinnamon and then you're ready to enjoy this fall favorite!
Perfect Pairing:
Pair this festive aperitif with Everything Bagel's egg and cheese bagel sandwich for a tasty brunch delight or double down with a pumpkin cheesecake bar from Little Barb's Bakery.
Hickory Dickory
This cocktail is best for those who love a boozier drink with a little hint of sweetness.
Whiskey – We char hickory chunks in house and allow Bulleit Rye Whiskey to rest on them before beginning this cocktail making process. The hickory gives it a nice smokey essence that really adds to the fall flavor.
Courvoisier cognac – After letting the rye whiskey rest, we pair it with this cognac to provide body and subtle sweetness.
Praline maple syrup – This Georgian made syrup adds a mellow, nutty flavor to the drink while the maple notes give it a festive taste. 
Cherry bark vanilla bitters – These Bittercube bitters are some of our favorites, and truly inspired this drink. They offer a woodsy and aromatic flavor profile that accentuates all the other hand crafted ingredients.
We stir everything together until chilled, then strain and garnish with a brandied cherry.
Perfect Pairing:
We love to pair the Hickory Dickory with the savory ramen from Marcos530 or the salumi platter from Napoli Pizzeria and Gelateria.
More fall flavor coming soon!
Can't get enough of the fall flavors? Stay tuned for two more delicious cocktails to make an autumn arrival this month!